Stainless Steel Tubing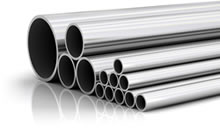 We stock a range of stainless steel tube sizes from 1/2″od to 3″od. Unless noted, the tube in stock is Type 304 with a polished finish. The standard length is 20 feet. We can cut tubing to any length you require. Cut tubing lengths have the inside and outside deburred.
Please contact us for current pricing and availabilty.
Example of stainless steel tube size 1″ X .065 = 1″ is the outside dimension of the tube .065 is the nominal wall thickness of the tube.
1/2″ X .035
5/8″ X .049
3/4″ X .049
3/4″ X .065
7/8″ X .049
7/8″ X .065
1″ X .049
1′ X .065
1″ X .065 Type 316*
1″ X .083

1″ X .120
1 1/8″ X .049
1 1/8″ X .120
1 1/4″ X .065
1 1/4″ X .065 Type 316*
1 1/4″ X .083
1 1/4″ X .120
1 1/2″ X .065
1 1/2″ X .065 Type 316*
1 1/2″ X .120

1 5/8″ X .120
1 3/4″ X .120
2″ X .065
2″ X .120
3″ X .065
1″ X .120
1 1/8″ X .049
1 1/8″ X .120
1 1/4″ X .065